I've finally decided what to wear to my company Christmas party, which will be taking place a week from tomorrow. I work for a small business and our company party every year is a dinner at a very nice restaurant downtown, after which we hit a bar or two downtown for drinks. It is usually a very fun evening, and I look forward to it. My co-worker and I decided years ago to make this party an EVENT, and get really dressed up for it. Mostly because I don't have many other opportunities to dress-to-the-nines ;)
I took forever this year to decide on what pattern, and then what fabric to use. After more than a month of dithering, I finally decided on
Simplicity 1607
, view A. It's a Cynthia Rowley pattern, and I don't think I've made one of her designs before. I love the design of the straps!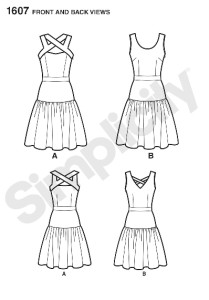 I am changing the skirt though, to a straight pencil skirt of a pattern that I've drafted. I'm not really a ruffly type of girl, and the fabric I'm using won't lend itself well to gathers. The fabric is of completely unknown fibres (manmade, I'm thinking) and has been in my stash for eons. It's cool though (at least I think so!) with a brocade type simple floral pattern woven through it, and with either side being completely acceptable to be the "right" side. I think I'm going to use the more silver-y side out to make more of a holiday statement. Yeah...I dithered about that too. Of course, I'm a bit of a magpie, drawn to sparkly things, so I didn't dither long!
I have made some progress - I've made the pattern alternations (FBA, graded up the waist to my current pre-New Year's-resolution size, and switched out the skirt yoke and gathered skirt to my own self-drafted above the knee pencil skirt pattern), and I've cut it out. I am definitely not sentimental about this fabric despite it being in my stash for so long. My plan is to start sewing it on Saturday.
Heh...I've been known to start a dress the same day I need to wear it (though this one might be difficult considering I have to work during the day on Friday!) I do have a backup plan though...