So...my coat is finished, and I have a few other projects already cut out. But I have not done any sewing since finishing the coat. Absolutely none. I just haven't had the time! Between work, skiing, and various appointments, I just haven't gotten to L'Atelier. And let me tell you, the Mojo has been running high!!
So, what's a frustrated sewist to do? Why, daydream and plan of course! I don't know about you but I'm starting to get a little sick of winter, and I'm thinking we've still got a ways to go. I'm dreaming of spring. Yeah, I still need another winter coat, but my thoughts are turning to spring colours and what I need for a spring wardrobe.
Strangely enough, my thoughts have turned to a soft pink, almost a blush pink colour. Keep in mind I've never been really much of a pink fan (other than for lingerie, babies and little girls), so I'm not sure where this is coming from - maybe I'm being subconsciously brainwashed by all the articles on pastels being a big trend for spring! Anyways...I'm formulating a plan with this soft pink colour, varying shades of grey and cream.
I've been a long time fan of the SWAP (or Sewing with a Plan) that appeared EONS ago in Australian Stitches magazine. Artisan Square is having a contest
(SWAP 2014 Official Rules)
, though if I join, it will be a sure recipe for me not to be successful (LOL), so I will only unofficially join - Purpose without Pressure. The rules for this contest are as follows:
Sew 3 "3 packs" and 2 "wild cards" for 11 garments
Each three pack will consist of the following:
2 tops and 1 bottom
OR
1 top and 1 bottom and 1 outer layer
OR
1 dress and 1 top and 1 bottom
This gives a LOT of flexibility in planning! I think I will do one of each three pack plus the two additional garments. For my
first Three Pack,
I will work on the 1 top, 1 bottom and 1 outer layer three pack.
Garment 1A - One Outer Layer
I already have a pink and grey houndstooth check jacket in progress, so I think I will be using that for my outer layer. It's the Nancy Erikson Fashion Sewing Group jacket pattern, which I've made numerous times before.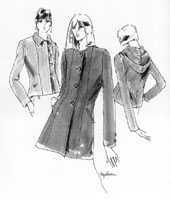 http://www.fashionsewing.com/1945C.htm
Garment 1B - One Bottom
- a self-drafted pencil skirt in soft pink to coordinate with the houndstooth jacket (I'm almost 100% certain I have a soft pink wool crepe somewhere in my stash - the trick will be to find it!!)
Garment 1C - One Top - McCalls 6436, view D in blush pink very lightweight satin back crepe. I'm debating about which side to use right side out (shiny vs matte).
McCalls 6436 http://mccallpattern.mccall.com

For the second Three Pack, I will be working on the "1 dress and 1 top and 1 bottom" three pack.
Garment 2A
-
One Dress
, OOP Vogue 8593, grey doubleknit
Garment 2B
-
One Top -
Blouse, Vogue 8772 in medium grey lightweight satin backed crepe, View D, with detachable bow, collar and cuffs in satin side out, and body in matte side out
Garment 2C - One Bottom -
Skirt from Vogue 8672, in grey wool (view to be determined)
Third Three Pack - 2 tops and 1 bottom
Garment 3A
-
One Top -
Vogue 9771 in lightweight cream satin back crepe
Garment 3B - Second Top -
McCalls 6841, view C in Cream lightweight sweater knit
Garment 3C - One Bottom -
self drafted cream pencil skirt with cream faux ostrich skin accents
Two Wild Card Garments
Garment WC-A
- Cardigan from M6844 view C in cream sweaterknit
http://mccallpattern.mccall.com
Garment WC-B - Dress, Vogue 1183 in midweight cream poly crepe
http://voguepatterns.mccall.com/
There you have it, The Blushing Coquette in Spring 2014. Now to find the time to put these dreams into action!