So...its the end of summer. The nights are cooler and the days have that late summer feel to them. I noticed while driving across the province for work yesterday that the late summer colours have appeared - the golden rod is in spectacular bloom, as are the purple wild asters and wild chicory - I even spotted a few maple trees that have started to turn into their glorious fall reds, oranges and yellows.
And I've decided I needed a bathing suit. Why, you ask? I'm camping this weekend for the first time in a few years, and we have intentions of renting a canoe at the campsite. Wearing any of the bathing suits I already have just wouldn't work out best for me, ifyaknowwhatimean...Hello wardrobe malfunction waiting to happen!
So...what's a girl to do? Turn to her pattern and fabric stash, of course! For fabrics, I dug through my bin (when did I amass all these fabrics?! and from where?!) and settled on these swimwear fabrics:
For the patterns, I chose Loes Hinse's Tank Dress pattern, the Cami view - I know this pattern fits me very well and would be the perfect base for an "active wear" swimsuit. For the bottoms, I chose another TNT bathing suit pattern, New Look 6469.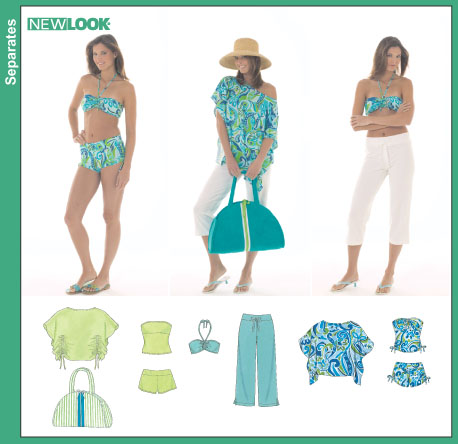 Photo credit: http://sewing.patternreview.com/Patterns/8987
Here's the final result:
Since I made both before, I didn't have to do much in the way of alterations. I did add a shelf bra with formed cups to the cami, using instructions from the Singer Sewing Reference Library Sewing Activewear book. I used swimwear elastic on the armholes and neckline, serged to the right sides of the openings, then turned to the wrong side and stitched down with zig-zag stitches. I didn't measure the elastic, just stretched it slightly smaller than the opening while serging in place. The hem is just a regular turn and stitch hem, about 3/4" deep. I added lining to the shorts, simply by cutting out the swimwear lining fabric using the pattern pieces for the front and back of the pattern. I sewed those together and inserted it wrong sides together into the main shorts. I inserted a piece of 3/4" swimwear elastic that was cut slightly shorter than my waist measurement with the ends sewn together into the waistband for added security. I then serged the contrasting waistband to the shorts and lining as one unit. The bottom hems are finished with swimwear elastic, using the serge, turn and stitch technique like the cami.
I am very happy with the result. I already have cut out a few more mix 'n match pieces including some Jalie 2563 sports tops and McCalls 5400 bottoms. I'll share these pieces as soon as they're done, but for the time being, I'll be busy sorting out the camping gear!