Yes, see!!! I told you - Return of Mojo, and a disproportionate number of FOs given my sewing over the past few months. So...lucky readers, two blog posts in a row! I present to you another FO review - this one for Simplicity 1916.
Pattern Description:
According to the website and pattern envelope: Misses knit tops with sleeve variations. I would also add that there are patterns for a wrap top, and an empire waistline type top. Variations for a flower embellishment and a drape are also included.
Pattern Sizing:
6-14, and 16-24. I made size 14.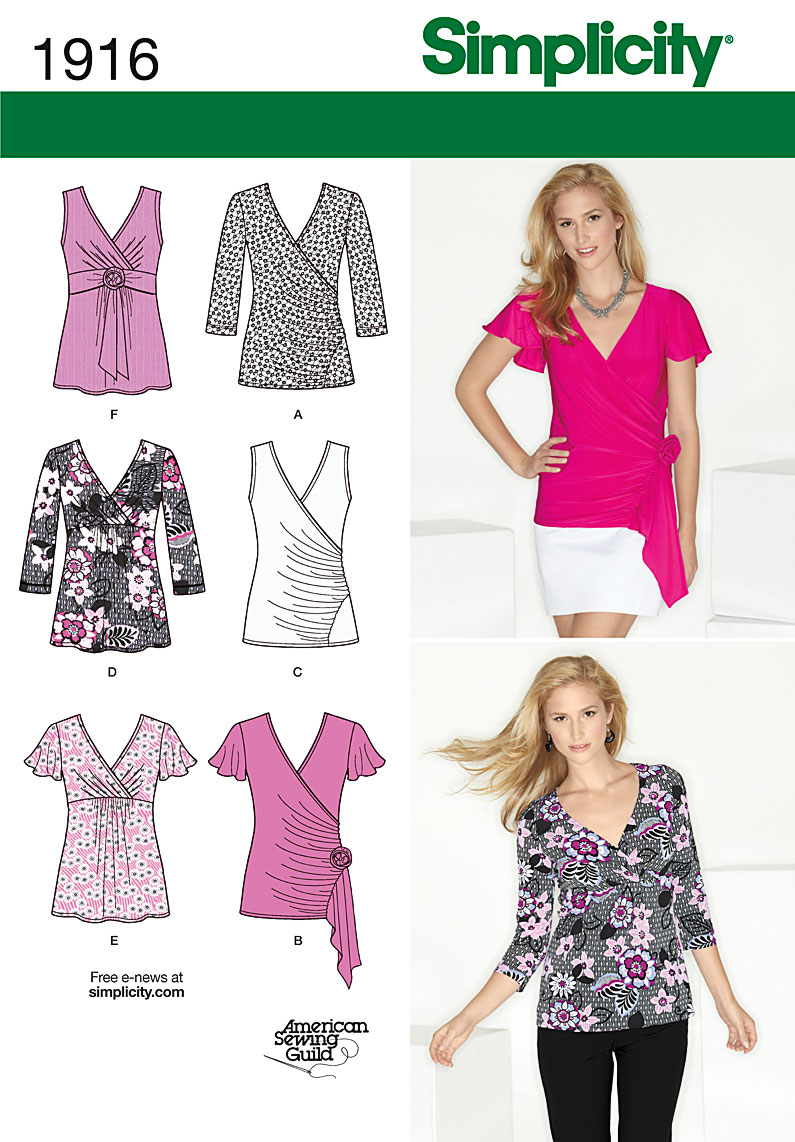 Did it look like the photo/drawing on the pattern envelope once you were done sewing with it?
Yes, it did, with one exception - the fabric I chose was a busy print and the gathering/embellishment on the left side front doesn't show that well.
Were the instructions easy to follow?
Yes.
What did you particularly like or dislike about the pattern?
I would caution to be very careful about how you transfer the pattern markings. I had to unpick the left side front embellishment and left front wrap gathered area because I lined everything up to the wrong marking. I only used little nips into the fabric instead of transferring markings...not the best way of doing it, I learned!
Fabric Used:
printed polyester knit that I've had in my stash forever! I made a top from this fabric before and learned the hard way to be cognisant about pattern placement and this particular print (the previous top ended up with one of the circles as a bulls-eye over one of my breasts, and I didn't wear it much as a result).
Pattern alterations or any design changes you made:
I did a 1/2" swayback adjustment at the centre back, and sewed up 3/8" seam allowances on the side seams by the bust to increase the size a little (cheater instead of doing a FBA aka full bust adjustment).
I used self-fabric binding to finish the top edges of the fronts, as well as at the armholes. I just serged it to the edges left it instead of tacking it down as the pattern instructs.
Would you sew it again? Would you recommend it to others?
I might be sewing this again. I would like a version with the longer sleeves, but I have quite a few other wrap top patterns to try, so we'll see if it happens. I do quite like the drape version as well.
Conclusion:
this made a nice summer top that incorporates my chosen wardrobe colours (red, black and white).
**A while back I mentioned that I was hoping to introduce photographs of myself actually wearing the clothing I create, but alas, my tripod has gone the way of the landfill. The legs wouldn't stay where I put them anymore and I didn't want to risk damaging my camera. Maybe sometime soon you will actually get to see pictures of me wearing the clothes. A new tripod is already on my Christmas list...