Even though we've passed the spring equinox, our days aren't feeling very spring like. The sun is shining brightly and longer, but it's still cold out. Despite that, when the days get longer and sunnier, my thoughts turn towards spring. And to me spring means a bright fun wardrobe. I'm almost done the first phase of my current SWAP, with only two more items to go (a skirt and a jacket). I've finished the pants but haven't blogged them yet. BUT...I've also just booked plane tickets to go to Prague in June. #soexcited
Travelling to me means SWAP or capsule wardrobe. I travel with only a carry on bag, which means new SWAP is in order.
My first order of business when planning a SWAP or capsule wardrobe is always to browse - magazines, online, Pinterest, photographs, books. In this case, I searched Pinterest for "Spring Wardrobe", "Spring Outfits" and "Prague Outfits". When something catches my eye, I start my own board, specifically for that SWAP or season. I keep pinning more and more outfits or photographs of anything that catches my eye. When I have about twenty or thirty, I again take a closer look at what it is that catches my eye - in this case it was a combination of the colours coral and olive, and that the clothes were relaxed yet pretty and feminine. Here's a perfect example of a colour palette I found on Pinterest:
The next step is to go digging through my stash. My stash is expansive, so this always takes some time, but I always have so much fun stash-diving. This time, I combined this with a bit of a sewing space clean out and donated/tossed some fabrics I know I won't be using (ever!). I do the same thing with my fabrics as I did with Pinterest, just pull things that catch my eye, that fit the colour palette and fit the feeling of the collection that I'm going for. I don't organize specific fabrics to specific patterns until later. I found some good stuff:
The next thing I do to plan my travel wardrobe is to write the list of events I'll be attending, activities I'll be doing, as well as do a bit of research on the anticipated weather for the time of year I'll be travelling. Am I travelling for work? Am I travelling for pleasure? Do I need certain clothes to do certain activities (swimming, hiking, biking, city walking, attending meetings or parties, etc.)? I write an outline of the clothes I think I'll need - this is based off my travel experience, my sewing experience with SWAP and a lot of research. I have a standard formula of clothing items that seems to work really well (highlighted in
bold
below). This formula can be suited towards any type of vacation, simply change the
style
of clothing required. For example, the jacket can be either a suit jacket or blazer, or an athletic waterproof fabric, or a relaxed and cozy cardigan.
On this trip, I'll be doing mostly European city touristy/vacation type things - museums, in-town walking tours, art galleries, but I also like to dress for dinner, and there is the possibility of an evening reception or two. So, I'm going for a business casual wardrobe with a dress or separates that can be dressed up a bit.
Here's what I'm thinking:
1.
Jacket
, olive green cotton motorcycle style jacket, Kwik Sew 3764 (one of my Make Nine!)
2.
Pants #1
- Tan textured cotton Lander Pants, view C (another #makenine2018)
3.
Pants #2
- Vogue 8330 slim cut jeans in blush stretch "denim"
4.
Skirt #1 in a solid colour
- Vogue 7805 in olive cotton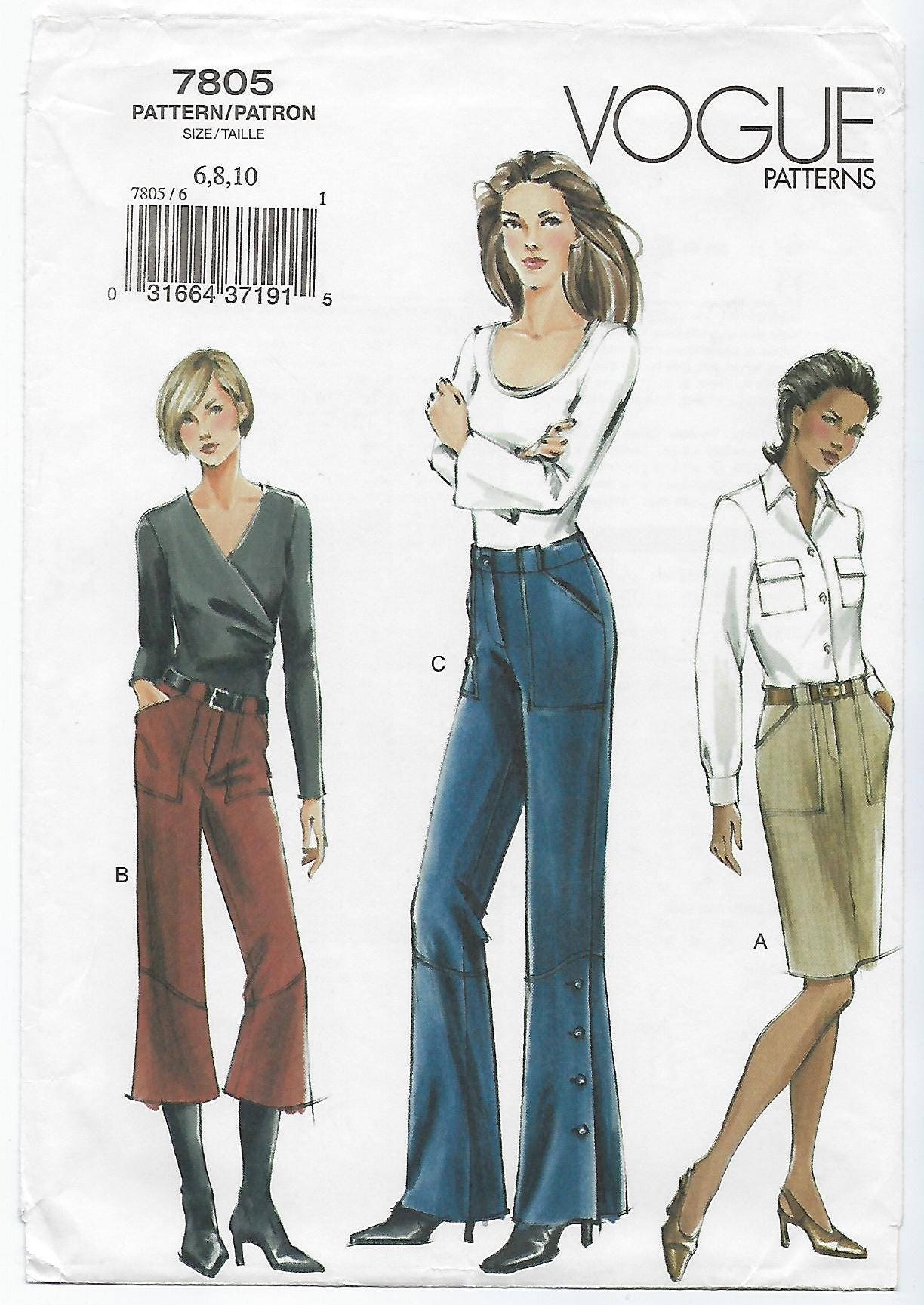 5. Skirt #2 in a print or check - I'm switching this out to a pair of cropped wide-legged trousers in an olive medium weight linen/cotton blend - I'm thinking if the Lander Pants above is a success, why not use the same pattern but the cropped length (view B) for these?
6. Top #1 - blush pink rayon jersey drapey tee, Sandra Betzina Vogue 1291 OOP

7. Top #2 - coral pink cotton/lycra jersey drapey tee with 3/4 length sleeves, M7249
8.
Top #3
- creamy white cotton/linen shirt, Butterick 5678
& 9. Top #4 - tropical print cotton shirt, Butterick 5678, sleeveless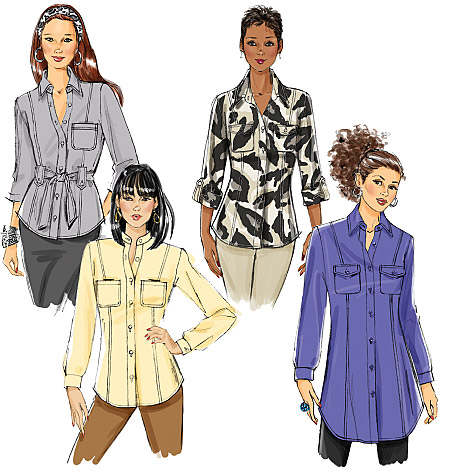 10. Top #5 - ITY print in brown and cream, sleeveless tee/tank
11. Top #6 - flow-y sleeve loose tee, olive jersey, New Look 6913
I'm also throwing in an easy jersey dress which can be dressed up or down, and a pair of leggings and a lightweight hoodie in brown knit technical fabric. I'll need the dress for dinner out one or two nights, and the leggings and hoodie will be my pjs and yoga gear. For the dress I've chosen the infinity dress pattern from Butterick, in an olive green jersey, which will give me lots of different looks.
I have also found a cozy cardigan and a lightweight rain jacket to layer over everything are necessary items. I have a really unique wool sweater knit fabric in an olive-y/tan/brown colour for a Blackwood cardigan. I haven't figured out what fabric or pattern for the rain jacket yet.
Accessories will include scarves, a few cheap but gorgeous statement necklaces, hoop earrings in gold, and two pairs of supportive shoes (one casual pair and one dressier yet just as comfortable pair, perhaps sandals of some kind).
As you can see, this SWAP has absolutely nothing to do with my previous SWAP - the colours I've chosen aren't immediately noticeably cohesive with the previous capsule wardrobe I've sewn, but I think there will be the ability to mix and match some of them together. Regardless, I am blessed with a large closet, a large stash of fabric, and loads of patterns. And I'm sewing (and eventually wearing) what will make me happy.