While scrolling through my photographs recently, I realized I had a couple of finished items that I haven't yet posted about. I felt compelled to write a post about this particular finished object because it really is fast becoming one of my favourite things to wear. It truly is a multipurpose dress (that's a Kinsey Milhone reference for those who enjoy Sue Grafton's novels as much as I do!). It can be dressed up or down, depending on the accessories. It has no defined waistline, which for me at the moment is great - hello winter of too much lazing about combined with changing hormones! That also means it is super cool and breezy to wear in the heat of the summer.
My current favourite multipurpose dress is the shorter version of McCalls 6559.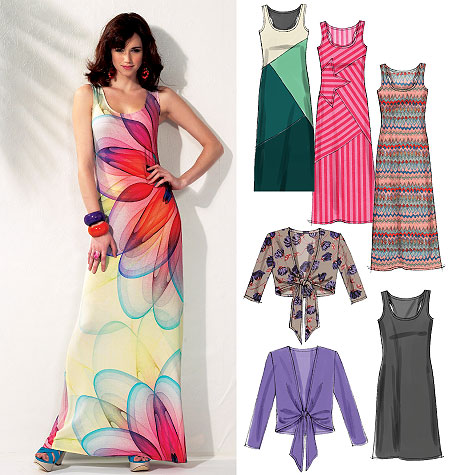 I've made this dress three times now, once as the maxi and twice as the shorter length. While I love the maxi, I feel too warm when I wear it in the summer. I honestly also feel rather disproportionate with the swath of fabric emphasizing my long legs and shorter upper body (I'm 5'9" with a 35" inseam).
The shorter versions, though, have been worn a few times a week. I'm also gravitating towards them when I come home from work and need to get into something comfortable. I made a black one a few years back out of a cotton/rayon/lycra jersey. My most recent make is out of a chartreuse green microfibre jersey.
This is great fabric. It feels so dressy and sexy to wear, it skims the curves and just hangs so nicely. I had some trouble with the photographing of this dress, as you can see - the photographs came out in all sorts of different colours. The truest colour is the photograph of the back view on the right.
I finished the neck and armholes with strips of self-fabric cut on the cross-grain. I cut the strips 2" wide and just shorter than the length of the opening. I joined them in a circle, then folded them in half, wrong sides together and stitched them to the right side of the openings. A light press with the iron finishes them off. I think it is just a more professional finish than the turn-and-stitch hems often recommended in the pattern.
I also made the longer cardigan that is included with the pattern out of the same fabric. I opted not to hem it at all because the topstitching of this fabric was giving me FITS. It was easy enough to do, I used a rotary cutter to cut it out and make the seam edge very even and clean. It made the cardigan a super-quick project.
I wore it a lot on my recent vacation, including a dinner at the Zofin Palace in Prague!
I'm sure I'll be making more of these this summer - in fact, I already have some treasured souvenir fabric from my vacation last summer pulled for this!