Yes, I know it's February. Today, however, is the Lunar New Year. I had a friend over on the weekend for a Sewing Day and we got to talking about how we didn't really live up to our expectations for ourselves for this year (aka we totally sucked at some of our plans only one month in). We decided to use the Lunar New Year as a turning point to reassess and make some adjustments in our plans for the coming year. We also decided we're going to be accountable to each other for some of our plans.
The past six months or so for me have been somewhat of a blur. An amazing blur, but a blur nonetheless. Work has been crazy busy, with a change in positions. It's been an adjustment but it's working out very well. I enjoyed a vacation that saw my entire family together celebrating the wedding of my brother to my favourite sister-in-law. My daughter and her spouse announced that they are expecting their second child, and my first grandchild has grown in leaps and bounds (literally and figuratively). I travelled A LOT. I spent one weekend in September at Disney for a very close friend's birthday. I spent the following weekend in New Orleans for work. I also travelled a lot for work in my home province, essentially I only spent at most two nights in a row at home through the entire month. As a result, I was sick as a dog in November with sinusitis, bronchitis and an ear infection that took a lot out of me. As soon as I recovered, December was in the full Christmas spirit swing, seeing the usual round of social activities, parties and family get-togethers. I rang in January with what is now happily becoming my traditional Sewing Retreat. In all honesty, I'm not really sure where January went, but it's been cold and snowy. And here we are, February and all caught up.
I've been sharing some of my makes on Instagram (I have a private account, but if you've got sewing or knitting or something related in your profile, I will approve your request to follow me), but am very aware of how little I've shared on this blog. I'm not going to apologize, but I really do miss the accountability factor that sharing my goals and planning blog posts bring to me. I can't promise how much I'll actually be posting, but I really do enjoy interacting with my sewing friends online. So...let's get on with the most recent post!
I have been sewing like someone obsessed, because...well...I am! Ringing in the (calendar) New Year with a sewing retreat reset my creativity and made me really want to spend some more dedicated time in my Atelier. I'm currently working through some planning that I did a few weeks ago and have almost finished the capsule that I planned.
There are a lot of options for planning a capsule wardrobe. For this one, I chose the Sewing Sudoku method as the basis for this wardrobe. You can find a free printable here:
Melly Sews Wardrobe Sudoku Planner
. I have a work trip at the mid-to-end of February and thought this would make the perfect opportunity to work a few new things into my wardrobe. The Sudoku method sees four tops and four bottoms coordinated with four pairs of footwear/shoes and four accessories. For this plan, I am including all layering pieces rather than accessories as it is COLD in Canada in the winter and I need the extra pieces in my wardrobe to stay warm. I LOVE my accessories and will be adding them in, but not in a formalized plan.
My plan is this:
WARM WINTER SUDOKU WARDROBE
Tops
Top #1 - Butterick 3124, Sandra Betzina Today's Fit with cowl neck (view A), in olive green stretch lace
Top #2 - McCalls 5536 Twist Top (view C & E), in espresso brown rayon/lycra jersey
Top #3 - Butterick 3124, Sandra Betzina Today's Fit shell (view B), in cream stretch lace
Top #4 - Sew Over It Pussy Bow Blouse, in cream lightweight polyester textured crepe
Bottoms
Bottom #1 - Vogue7607 asymmetrical skirt, in olive green textured faux leatherette
Bottom #2 - Vogue 8202 wide-legged jeans, in espresso brown fine wale corduroy
Bottom #3 - Simplicity 4596 pleated skirt (View A), in greige textured faux leatherette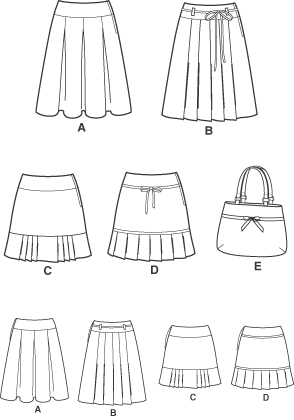 Bottom #4 - Closet Case Ginger Jeans, in rust orange lightweight stretch denim
Layering Pieces
Layering Piece #1 - Vogue 7764 military style jacket, in olive green cotton velveteen
Layering Piece #2 - New Look 6013 vest, in a heavyweight sueded olive green knit
Layering Piece #3 - Vogue 1517 jacket, in brown wool blend suiting
Layering Piece #4 - McCalls 7257 cardigan jacket in loosely woven fabric in cream, rust orange, khaki, and burgundy
Shoes
Shoes #1 - Brown faux alligator heeled pumps
Shoes #2 - Khaki boots, similar in styling to faux Doc Martin
Shoes #3 - Cognac low heeled riding boots
Shoes #4 - Cognac suede booties
I'll have to buy a few notions but this plan uses mostly items from my stash - even some vintage stash!
I love planning wardrobe capsules. I love new clothes and I love being able to have a highly wearable wardrobe when they're completed.